News
Congratulations to SCIPP Deputy Director Rachel Riley who was awarded the 2019 Route Fifty Navigator Award in the Tech Innovators category. Riley, along with collaborators Paula Dennison and Rob Hill from the City of Stillwater, Oklahoma, received the award at a ceremony on November 20 in San Antonio, Texas. The award was given for "developing the Simple Planning Tool for planners and emergency managers to assess the local, long-tern climate risks in Oklahoma communities." SCIPP developed the Simple Planning Tool because of the needs expressed by local, regional and state planners and emergency managers at workshops in 2017 and 2018.
The awards ceremony took place during the National League of Cities' Summit. Awards were given across five categories: The Electeds, The Leaders, The Next Generation, The Tech Innovators, and The Allies. More details about the rest of the winners are available here. The Route Fifty awards honor individuals and teams who work in or with state, county and municipal governments across the United States.
SCIPP's Simple Planning Tool (SPT) for Oklahoma Climate Hazards received the Oklahoma Chapter of the American Planning Association's (APA) 2019 award for Outstanding Public Outreach, Program, Project, Tool, or Community Initiative. The award category emphasizes results and demonstrates how innovative and state-of-the-art planning methods and practices help create communities of lasting value. Jurors from Oklahoma, Arkansas, Texas, North Carolina, and Vermont reviewed all of the award nominations. The award was presented at the Quad State APA conference in Tulsa, Oklahoma on October 10, 2019. Rachel Riley accepted the award on behalf of SCIPP. Paula Dennison, Assistant City Manager for the City of Stillwater and Rob Hill, Director of Emergency Management for the City of Stillwater were key practitioners involved in the development of the SPT and nominated the tool for the award. Mr. Hill joined Ms. Riley at the awards gala to accept the award.
The SPT was developed in 2017 and 2018 through collaborations with planners and emergency managers across the state of Oklahoma. There is also a version for Arkansas that was developed collaboratively with planners and emergency managers in that state. More information about the SPT can be found here.
SCIPP has released a new report titled The Social and Scientific Misconception of Floodplains: An Integrated Look into the Re-evaluation of the "100-year" and "500-year" Flood Determinants. The report can be found here.
The work, conducted by McKenzie Roberts, was developed for her capstone project in the University of Oklahoma's Department of Geography and Environmental Sustainability. McKenzie examined risk perception via survey data, historical climate data, and meteorological data, including from Hurricane Harvey, in Houston to create a new floodplain map that is perhaps more reflective of actual flood risk as compared to maps currently in use. Survey data provided insights into how risk is perceived by Houstonians, including documenting significant differences in rainfall thresholds used by Harris County, NOAA Atlas 14, and local residents. Historical data were combined with elevation models to identify areas at-risk of flooding and compared to properties that were actually damaged by flooding during Hurricane Harvey.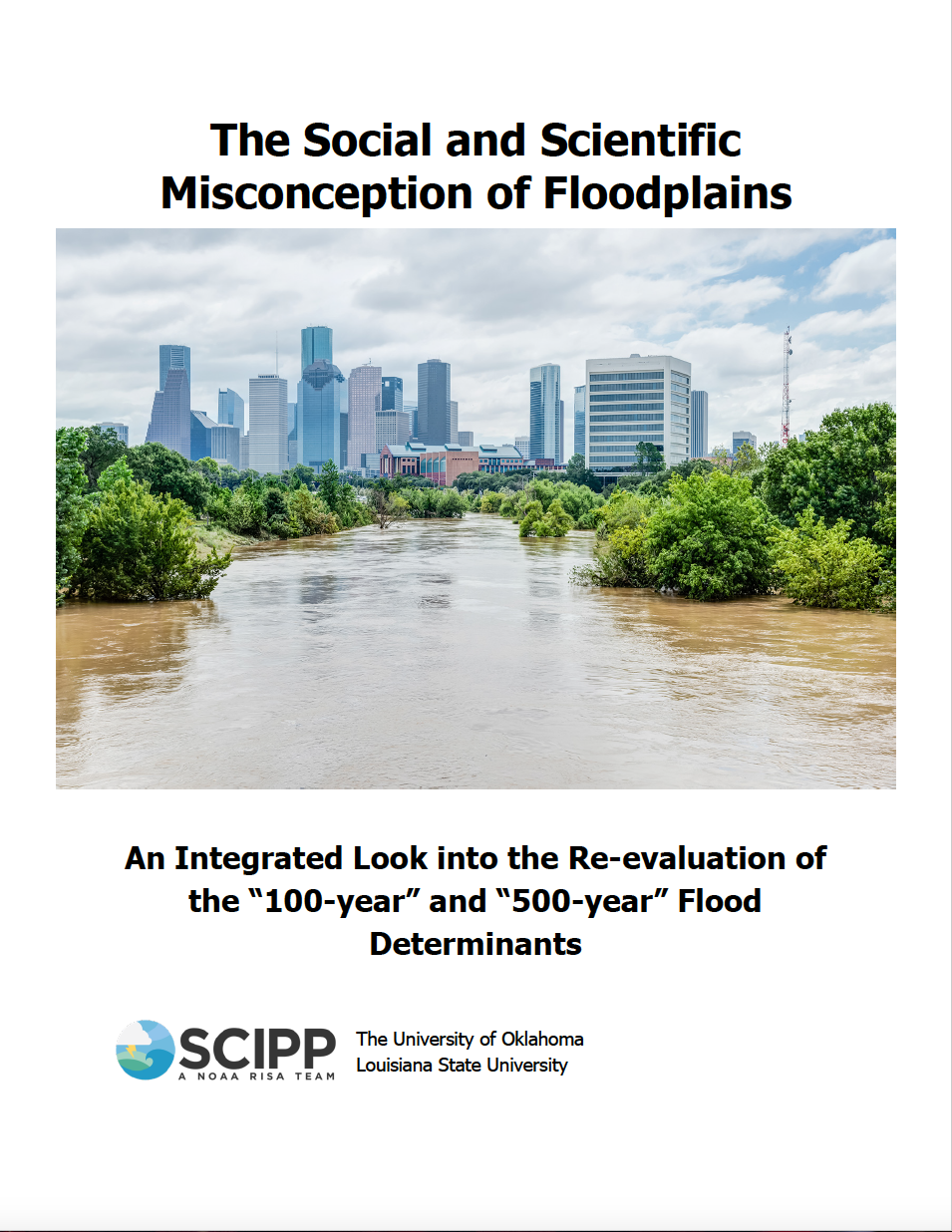 SCIPP Awarded Three More Years of Funding
The University of Oklahoma-led Southern Climate Impacts Planning Program, a multi—institutional stakeholder driven research team, is the recipient of a National Oceanic and Atmospheric Administration grant totaling $2.3 million over three years. SCIPP was established in 2008 to help south central U.S. communities build resilience to weather and climate extremes. The OU-led SCIPP is one of 11 NOAA Regional Integrated Sciences and Assessment teams across the country covering the states of Texas, Oklahoma, Louisiana, Arkansas and coastal Mississippi.
"The challenges of managing ever-increasing extremes in weather across the region is both a physical and social challenge," said Mark Shafer, lead for SCIPP. "We need to continue advancing our understanding of physical challenges, such as the extreme rainfall in Hurricane Harvey in 2017 and in Louisiana in 2016. We also need to know how it affects communities and what capacities those communities have to prepare and respond. The project allows us to investigate both of these aspects, working closely with community partners to bring science outside of the universities and helping communities become more resilient to such extremes."
SCIPP improves a community's adaptability to the adverse effects of climate extremes (tornadoes, hurricanes, floods, wildfires, winter storms, droughts, floods and rising sea levels) by focusing on planning and preparedness, coastal impacts, climate adaptation, use of seasonal to sub-seasonal predictions and drought. Within these five areas, SCIPP works to identify and build new decision support tools, synthesize information for use in planning, conduct research to understand physical and social factors affecting risk, and study how information is shared within communities to improve individual and collective resilience.
Examples of a SCIPP tool includes the Simple Planning Tool, developed in collaboration with city planners and emergency managers in Oklahoma and Arkansas. The tool allows local officials who may not have a technical background to assess their risk. In another example, SCIPP team members synthesized information for use in planning by analyzing historical climate information and model projections to inform how climate may affect the U.S. Strategic Petroleum Reserve's mission-critical objectives.
The SCIPP project team is led by OU and Louisiana State University with collaborators at the University of Kansas, University of Nebraska-Lincoln and Texas A&M University. SCIPP is located at the Oklahoma Climatological Survey in the OU College of Atmospheric and Geographic Sciences. For more information about SCIPP, visit http://www.southernclimate.org/; or to follow on social media, go to Facebook https://www.facebook.com/SouthernClimateImpactsPlanningProgram or on Twitter at https://twitter.com/SCIPP_RISA.

The Arkansas and Oklahoma Simple Planning Tools have been updated to versions 1.5 and include the following revisions:
Arkansas:
Added: The NOAA Atlas 14 Precipitation Frequency Data Server tool to the Heavy Rainfall and Flooding section.
Appendix C was updated to include NCA4 Volume II: Impacts, Risks and Adaptation in the U.S. (2018).
Oklahoma:
Added: A Dam or Levee Failure section and accompanying definition and description in Appendix A.
Added: The NOAA Atlas 14 Precipitation Frequency Data Server tool to the Heavy Rainfall and Flooding section.
The Air Quality section was re-named Poor Air Quality.
Appendix C was updated to include NCA4 Volume II: Impacts, Risks and Adaptation in the U.S. (2018)
The tools are available by clicking on the Data Tools tab or at the following direct links http://www.southernclimate.org/documents/SPTAR.pdf or http://www.southernclimate.org/documents/SPTOK.pdf.