News
Dr. William Howe, SCIPP Climate Assessment Specialist, led three studies that focused on various aspects of climate change and severe weather communication. Recently, three reports were produced. They are summarized below.
REPORT #1 (July 2020):
Sharing Expert Decisions: Examining Television Meteorologists' Tweets of a Severe Weather Forecasting Team's Warnings
In Sharing Expert Decisions: Examining Television Meteorologists' Tweets of a Severe Weather Forecasting Team's Warnings, Dr. Howe and co-author Dr. Miranda McLouglin, from Texas Christian University, compared tweets of severe weather events between the National Weather Service (NWS) and local television stations to better understand how media outlets deliver severe weather messages to the public. They analyzed each severe tweet finding significant differences on measures of clout, analytical thinking, and positive emotions. Results showed that while the NWS and television weather outlets held the strongest ability to set the agenda for severe weather messages, they themselves were affected by agenda setting, depicted in the tone and content of the weather messages. The results of this study illustrate why future researchers should approach media studies differentially based on the outlet's vulnerability to agenda setting.
REPORT #2 (October 2020):
A Social Network Analysis of Climate-Related Information Exchange in the Southern Climate Impacts Planning Program (SCIPP) Areas of Operation
In his second study, A Social Network Analysis of Climate-Related Information Exchange in the Southern Climate Impacts Planning Program (SCIPP) Areas of Operation, Dr. Howe examined the relationships between SCIPP's primary
stakeholders and sources of climate information. He examined familiarity with specific sources, such as the National Climate Assessment, U.S. Climate Resilience Toolkit, and NCEI/AMS State of the Climate Report, along with
familiarity of climate information providers, such as SCIPP, the USGS South Central Climate Adaptation Science Center, NOAA Southern Regional Climate Center, and local NOAA National Weather Service Forecast Offices. The analysis identified 81 unique organizations, 130 unique connections, and eight distinct groups. The study shows a need for more accessible information to stakeholders and suggests that SCIPP provide more timely updates to increase the relevance of its information. Furthermore, results highlight the critical role of sustained assessment specialists in cultivating stronger relationships, particularly in two areas of focus: universities and underrepresented populations.
REPORT #3 (July 2020):
Climate Change or Extreme Weather Events: Evaluations of Information from Texas Residents According to Message Framing and Source Credibility
In his third study, Climate Change or Extreme Weather Events: Evaluations of Information from Texas Residents According to Message Framing and Source Credibility, Dr. Howe conducted an experiment in which messages were framed differently to see how residents of Texas responded. He found that messages framed as extreme weather events instead of climate change, and messages from federal government sources versus non-profits, were perceived as more credible. The study also found that those with conservative political ideology rated all messages lower on credibility and newsworthiness and that older participants did not find messages to be as newsworthy as younger participants.
SCIPP's latest annual report, which covers the period June 2019 through May 2020, is now available. The report summarizes our accomplishments, outreach, outputs, and research objective updates during the reporting period.
The annual report highlights two awards granted to SCIPP for the Simple Planning Tools, which were developed in 2018 to assist planners and emergency managers in Oklahoma (and later Arkansas) in evaluating climate risks. Outreach included discussing 2019 Hurricane Barry on BBC World News, presenting to the New Orleans Homeland Security and Emergency Preparedness Office about Southeast U.S. precipitation trends, continuing to work with the Oklahoma Hazard Mitigation Working Group to improve planning for hazards, facilitating connections between the Disaster Resilience Network and University of Oklahoma researchers, and planning the Texas Resilience Conference (originally scheduled for May 2020), to name a few activities. In addition, the SURGEDAT database continues to provide valuable analyses of storm surges along the U.S. Gulf Coast.
Some of the research topics highlighted in the report include but are not limited to: 1) hourly precipitation trends across the Southeast U.S., 2) a Probable Maximum Precipitation (PMP) study for Oklahoma, Arkansas, Louisiana and Mississippi, 3) examining extreme rainfall forecast and communication processes, and 4) whether a nationally acclaimed model local hazard mitigation effort fits the standard model of hazard mitigation. Several other research topics are also included, along with new focuses and partnerships. Many of the outlined projects will continue into next year.
SCIPP's mission is to assist organizations with making decisions that build resilience by collaboratively producing research, tools, and knowledge that reduce weather and climate risks and impacts across the South Central United States.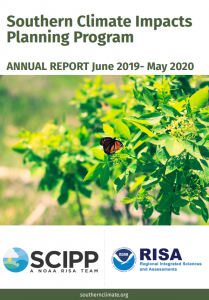 SCIPP PI and Louisiana State Climatologist Dr. Barry Keim was featured on WBRZ's Sunday Journal on May 17, 2020. Keim spoke about hurricanes in the Gulf of Mexico, preparing for the 2020 hurricane season in light of the COVID-19 pandemic, and gave a salute to former Louisiana State Climatologist Dr. Robert Muller, who passed away in March 2020.
SCIPP researchers at LSU, Dr. Vincent Brown and Dr. Barry Keim, along with Dr. Alan Black at Southern Illinois University at Edwardsville, recently published "Trend Analysis of Multiple Extreme Hourly Precipitation Time Series in the Southeastern United States" in the Journal of Applied Meteorology and Climatology. The research complements a previous manuscript published by the same authors titled "Climatology and Trends in Hourly Precipitation for the Southeast United States" (Journal of Hydrometeorology in August 2019) and highlights changes in extreme hourly precipitation time series. During the study period (1960-2017), the annual magnitude of the greatest 1-, 3-, 6-, 12-, and 18- hourly periods did not show many spatially congruent or significant trends, revealing that the single biggest annual hourly precipitation events did not change in magnitude in the region across the 50 weather stations that were analyzed. However, the magnitude of annual hourly 90th percentile events did show increasing trends significant at 36% of the sites analyzed, shown in the figure below. This demonstrates that while the single biggest events in a year did not change, hourly magnitudes of lesser, yet still heavy, events are increasing at some stations in the Southeast United States. The study also highlights changes in the longest hourly precipitation events and dry spell durations in the region.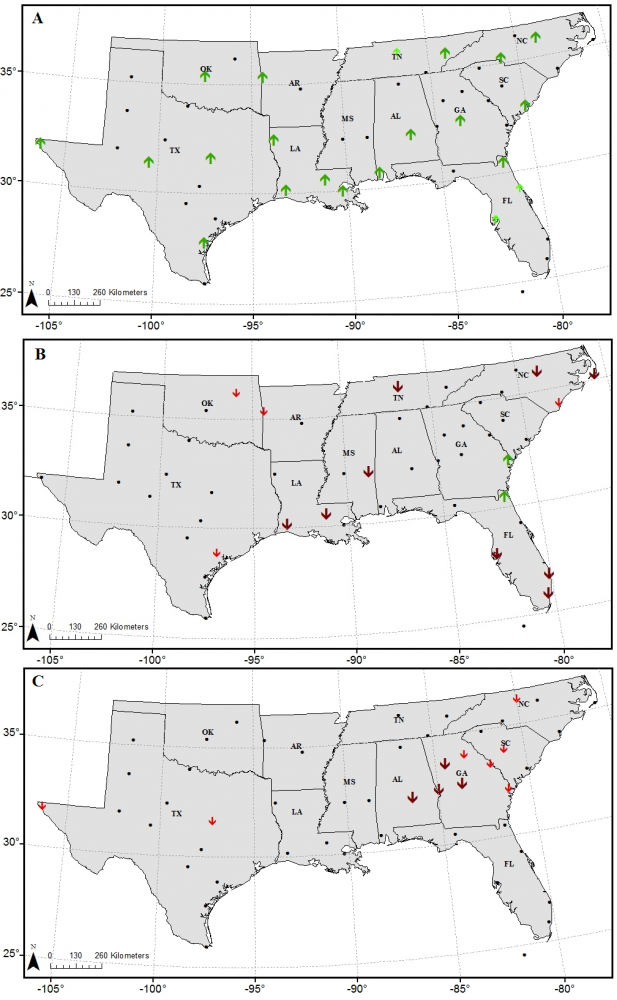 SCIPP researchers at Louisiana State University Dr. Vincent Brown and Dr. Barry Keim recently published a paper focused on the historic August 10-14, 2016 rain event that struck south-central Louisiana. The manuscript titled "How Rare Was the August 2016 South-Central Louisiana Heavy Rainfall Event?", was published in the April 2020 issue of the Journal of Hydrometeorology. The spatiotemporal pattern of precipitation produced by the August 2016 extreme rainfall event is examined. Brown and Keim used the Storm Precipitation Analysis System (SPAS), a software product owned by Applied Weather Associates (AWA), and found that an area roughly 5000 mi2 received approximately 18.3 inches of precipitation in only 96 hours. SPAS also revealed that one location likely received over 34 inches of rain during the event, aligning well with a measured gauge value of 31.39 inches that occurred in 48-hours, a record for Louisiana. The manuscript details the synoptic setting of the event and uses recurrence intervals to help place the storm in a historical context. For example, two areas north and northeast of Baton Rouge, Louisiana received 6-hour rainfall amounts that corresponded to a greater than 1000-yr event.