News
SCIPP's 2021-2022 Annual Report is here!
Our mission is to assist organizations with making decisions that build resilience by collaboratively producing research, tools, and knowledge that reduce weather and climate risks and impacts across the South Central United States. Accordingly, the application of SCIPP's mission objectives are detailed throughout the annual report. Some highlights of the report include an overview of the Summer Academy, an introduction of the new Advisory Committee, and essential research projects.
The report also includes significant new partnerships, meaningful engagements, societal impacts, and explores SCIPP's future endeavors. This is the final annual report of Phase III as SCIPP begins new research projects under the Phase IV grant.
To view or download the 2021-2022 Annual Report, click here.
With the new Phase IV grant funding and subsequent upcoming research, SCIPP has added a new area of focus centered around "climate justice." Climate justice directly connects to previously-researched areas by SCIPP, including disaster resilience and climate change adaptation, in increasingly meaningful ways. Therefore, Simone Domingue, a Post-Doctoral Research Fellow for SCIPP, will host a series of webinars and conversations to raise awareness of climate justice's significance in future adaptation. The webinars will also offer actionable ideas for participants to bring back to their communities for proactive planning.

Entitled Climate and Infrastructure Funding: A Conversation on Justice Opportunities and Challenges, the first virtual webinar will be co-hosted with Louisiana's Disaster Justice Network and will take place on July 28th at 1 pm. It will bring individuals together from different sectors to identify environmental justice funding and capacity-building resources for disaster resilience when implementing community-led projects. The webinar will have an informational component and provide an overview of federal funding opportunities, ways to access news and updates regarding those funds, and list resources available for technical assistance or planning. Lastly, the webinar will feature a panel discussion from leaders in environmental justice, disaster resilience, and community development.
To register for the virtual webinar, click here!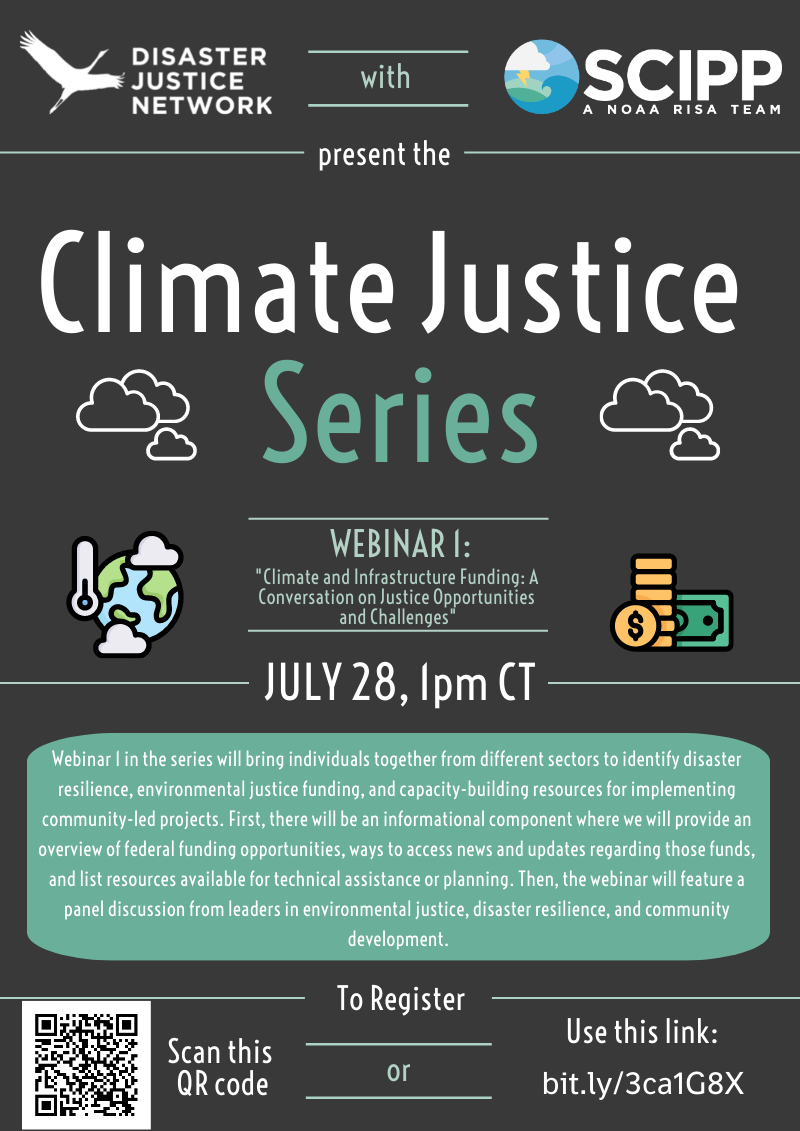 The Southern Climate Impacts Planning Program (SCIPP) is pleased to announce the expansion of the Simple Planning Tool to Texas. The tool, previously available in Oklahoma and Arkansas, assists planners, emergency managers, and decision makers in Texas who are assessing their long-term climate risks, both historically and in the future. The tool was primarily designed for decision makers who serve small- to medium-sized communities but may also be of interest to those who serve larger areas. The tool is now available here, or accessible by the Data Tools page.
The Simple Planning Tool for Texas Climate Hazards is a compilation of relatively easy-to-use online interactive tools, maps, and graphs relevant to 17 hazards: 14 climate hazards and 3 non-climate hazards. Users can access and obtain locally relevant data from the provided links and instructions. It also provides information on data limitations and a state-of-the-science summary on projected future trends for each hazard. Finally, appendices include hazard definitions and descriptions, historical FEMA/presidential disaster declarations, climate change science and projection resources, and incentive and action programs for hazard risk reduction. While it may not answer every question one has about hazard climatologies and future trends, it aims to cut through the internet clutter and point to relatively simple data tools that can be used during planning processes and in plans.
The Southern Climate Impacts Planning Program (SCIPP) Summer Academy 2022 welcomed undergraduate students from all over the organization's four-state region of Oklahoma, Texas, Arkansas, and Louisiana for five days of climate adaptation lectures, activities, and community exploration! The all-expenses-paid trip welcomed a total of 18 students to the University of Oklahoma from June 6th through the 10th. Students were given the opportunity to hear from a wide array of experts in the climate adaptation field, including professors and business professionals. The purpose of the Summer Academy was to introduce students to the vast opportunities that fall under the umbrella of climate adaptation. From climate models to Indigenous knowledge, the five days encompassed various branches of study that students could explore in their future careers and research endeavors.
Each day covered a new topic with exciting events in between:
Monday
Monday's theme was Weather, Climate, and Hazards- which featured lectures from SCIPP Climate Assessment Specialist Darrian Bertrand, Climate Research Director Vincent Brown, Deputy Director Mark Shafer, and Principal Investigator Barry Keim. From the South-Central Climate Adaptation Science Center (SC-CASC), Research Scientist Adrienne Wootten introduced climate models and downscaling.
The day served as a basic overview of climate, climate change, and climate adaptation, as well as a beginning foundation of knowledge for the week. The students were also introduced to a week-long project whereby the focus was to create a climate adaptation and resiliency profile for a community of their choosing (in the SCIPP region).
Tuesday
Tuesday then focused on Social Factors- with Drs. Simone Domingue and Lauren Mullenbach lecturing on how equity and environmental justice impact climate adaptation and communities. Since every community has different climate adaptation needs based on current trends and historical under or over-funding, this topic was especially important as students created their community profiles. SC-CASC Tribal Liaisons April Taylor and Yvette Wiley also discussed traditional Indigenous knowledge and climate adaptation in tribal nations. This topic is especially pertinent in Oklahoma, where tribal communities are numerous across the state. The day ended with exploring a Mesonet measuring station, and a tour of the National Weather Center led by OK-First Outreach Program Coordinator, Andrea Melvin. This provided students with a closer look at the Meteorological aspect of climate adaptation.
Wednesday
Wednesday's topic was Administrative Governance (and field trip day)! The session began with SCIPP Co-Principal Investigator, Aimee Franklin, lecturing on fiscal policy and the government's role within research. Dr. Franklin's talk also focused on grant management, a crucial component of SCIPP's overall operation. SCIPP Program Manager, Caylah Cruickshank, further expounded on this topic with her own professional experience in working with governments. This included how to report the effective use of grant money, working on deadlines, and the various tasks of keeping a research organization running. For the second half of the day, students took a field trip to downtown Oklahoma City to meet with Program Planner T.O. Bowman from the OKC Office of Sustainability. Mr. Bowman spoke on current and past city projects, giving students a view into city planning and working with city governments to achieve climate adaptation initiatives. The day ended with exploring Oklahoma City's more recent sustainability efforts, Scissortail Park and the Myriad Gardens, both large green spaces in the downtown area of OKC.
Thursday
Thursday's content centered around Planning and Development. Kim Jenson and Moriah Stanford from the Oklahoma Department of Emergency Management and Homeland Security began the day with a presentation on hazard mitigation techniques. SCIPP Director, Rachel Riley, then spoke on methods SCIPP uses to engage with stakeholders and connect with communities. The day also included a round-table discussion led by SCIPP Climate Communications Assistant, Evan Chladny, on past experiences, how everyone became interested in climate adaptation, and career prospects.
Friday
On the final day, Adaptation International Founder and Director, Sascha Petersen, presented on climate adaptation careers in the private sector. Mr. Petersen also encouraged the students to think about potential challenges and opportunities when considering a career in climate adaptation. To conclude the Summer Academy, students shared the results of their community profiles with the group. They also discussed the most beneficial or interesting thing they learned from the week.
SCIPP would like to thank all the undergraduates for their participation as they learned more about climate adaptation, and the many avenues of study within the field. We wish them best of luck as they continue to grow as students and young professionals!
The National Centers for Environmental Information (NCEI) released its 2021 Billion-Dollar Weather and Climate Disasters Report. The report uses inflation-adjusted financial data to assess weather and climate-related disasters that pass the billion-dollar damage threshold. The Billion-Dollar Weather and Climate Disasters tool is a useful resource to view the frequency and costs of these events since 1980 across the U.S. and monitor how natural disasters have affected people's lives and property over time. In 2021, 20 different billion-dollar weather and climate disasters affected the U.S., ranking as the second-highest year in frequency of these events. 2020 holds the record with 22 various billion-dollar disasters. The cost of damages from these events in 2021 was approximately $145 billion. The report also highlights the increasing trend in billion-dollar weather and climate disasters, attributing this to increased exposure and vulnerability to these hazards and an increase in some types of these events due to climate change. According to NCEI, there are "hints that the extremely high activity of recent years is becoming the new normal."
The report mentioned that since 1980, "the south, central, and southeast regions of the U.S.… have suffered the highest cumulative damage costs, reflecting the severity and widespread vulnerability of those regions to a variety of weather and climate events," showing just how vulnerable the SCIPP region is to these natural disasters. In 2021, our region was affected by 13 billion-dollar weather and climate disasters, including the two costliest disasters in the U.S. Category 4 Hurricane Ida greatly affected Louisiana and caused approximately $75 billion in damages, in which some of this was from extensive flooding in the Northeast U.S. as the tropical remnants merged with an additional weather system. The February cold wave caused $24 billion in damages across a large swath of the U.S., but extensive damage and power outages occurred in our region. SCIPP's own Darrian Bertrand and Simone Speizer wrote a report summarizing the impacts of this February cold wave to the SCIPP region, which is available here.
Information in this report underscores the need for organizations like SCIPP, which assist organizations in the south-central U.S. with making decisions that build resilience and reduce weather and climate risks and impacts. As one of the nation's most vulnerable and natural disaster-prone regions, we are working hard to increase resilience through community engagement and coproduction, cross-organizational collaboration, and hands-on research in communities that need our expertise.