News
The Southern Climate Impacts Planning Program (SCIPP) Summer Academy 2022 welcomed undergraduate students from all over the organization's four-state region of Oklahoma, Texas, Arkansas, and Louisiana for five days of climate adaptation lectures, activities, and community exploration! The all-expenses-paid trip welcomed a total of 18 students to the University of Oklahoma from June 6th through the 10th. Students were given the opportunity to hear from a wide array of experts in the climate adaptation field, including professors and business professionals. The purpose of the Summer Academy was to introduce students to the vast opportunities that fall under the umbrella of climate adaptation. From climate models to Indigenous knowledge, the five days encompassed various branches of study that students could explore in their future careers and research endeavors.
Each day covered a new topic with exciting events in between:
Monday
Monday's theme was Weather, Climate, and Hazards- which featured lectures from SCIPP Climate Assessment Specialist Darrian Bertrand, Climate Research Director Vincent Brown, Deputy Director Mark Shafer, and Principal Investigator Barry Keim. From the South-Central Climate Adaptation Science Center (SC-CASC), Research Scientist Adrienne Wootten introduced climate models and downscaling.
The day served as a basic overview of climate, climate change, and climate adaptation, as well as a beginning foundation of knowledge for the week. The students were also introduced to a week-long project whereby the focus was to create a climate adaptation and resiliency profile for a community of their choosing (in the SCIPP region).
Tuesday
Tuesday then focused on Social Factors- with Drs. Simone Domingue and Lauren Mullenbach lecturing on how equity and environmental justice impact climate adaptation and communities. Since every community has different climate adaptation needs based on current trends and historical under or over-funding, this topic was especially important as students created their community profiles. SC-CASC Tribal Liaisons April Taylor and Yvette Wiley also discussed traditional Indigenous knowledge and climate adaptation in tribal nations. This topic is especially pertinent in Oklahoma, where tribal communities are numerous across the state. The day ended with exploring a Mesonet measuring station, and a tour of the National Weather Center led by OK-First Outreach Program Coordinator, Andrea Melvin. This provided students with a closer look at the Meteorological aspect of climate adaptation.
Wednesday
Wednesday's topic was Administrative Governance (and field trip day)! The session began with SCIPP Co-Principal Investigator, Aimee Franklin, lecturing on fiscal policy and the government's role within research. Dr. Franklin's talk also focused on grant management, a crucial component of SCIPP's overall operation. SCIPP Program Manager, Caylah Cruickshank, further expounded on this topic with her own professional experience in working with governments. This included how to report the effective use of grant money, working on deadlines, and the various tasks of keeping a research organization running. For the second half of the day, students took a field trip to downtown Oklahoma City to meet with Program Planner T.O. Bowman from the OKC Office of Sustainability. Mr. Bowman spoke on current and past city projects, giving students a view into city planning and working with city governments to achieve climate adaptation initiatives. The day ended with exploring Oklahoma City's more recent sustainability efforts, Scissortail Park and the Myriad Gardens, both large green spaces in the downtown area of OKC.
Thursday
Thursday's content centered around Planning and Development. Kim Jenson and Moriah Stanford from the Oklahoma Department of Emergency Management and Homeland Security began the day with a presentation on hazard mitigation techniques. SCIPP Director, Rachel Riley, then spoke on methods SCIPP uses to engage with stakeholders and connect with communities. The day also included a round-table discussion led by SCIPP Climate Communications Assistant, Evan Chladny, on past experiences, how everyone became interested in climate adaptation, and career prospects.
Friday
On the final day, Adaptation International Founder and Director, Sascha Petersen, presented on climate adaptation careers in the private sector. Mr. Petersen also encouraged the students to think about potential challenges and opportunities when considering a career in climate adaptation. To conclude the Summer Academy, students shared the results of their community profiles with the group. They also discussed the most beneficial or interesting thing they learned from the week.
SCIPP would like to thank all the undergraduates for their participation as they learned more about climate adaptation, and the many avenues of study within the field. We wish them best of luck as they continue to grow as students and young professionals!
The National Centers for Environmental Information (NCEI) released its 2021 Billion-Dollar Weather and Climate Disasters Report. The report uses inflation-adjusted financial data to assess weather and climate-related disasters that pass the billion-dollar damage threshold. The Billion-Dollar Weather and Climate Disasters tool is a useful resource to view the frequency and costs of these events since 1980 across the U.S. and monitor how natural disasters have affected people's lives and property over time. In 2021, 20 different billion-dollar weather and climate disasters affected the U.S., ranking as the second-highest year in frequency of these events. 2020 holds the record with 22 various billion-dollar disasters. The cost of damages from these events in 2021 was approximately $145 billion. The report also highlights the increasing trend in billion-dollar weather and climate disasters, attributing this to increased exposure and vulnerability to these hazards and an increase in some types of these events due to climate change. According to NCEI, there are "hints that the extremely high activity of recent years is becoming the new normal."
The report mentioned that since 1980, "the south, central, and southeast regions of the U.S.… have suffered the highest cumulative damage costs, reflecting the severity and widespread vulnerability of those regions to a variety of weather and climate events," showing just how vulnerable the SCIPP region is to these natural disasters. In 2021, our region was affected by 13 billion-dollar weather and climate disasters, including the two costliest disasters in the U.S. Category 4 Hurricane Ida greatly affected Louisiana and caused approximately $75 billion in damages, in which some of this was from extensive flooding in the Northeast U.S. as the tropical remnants merged with an additional weather system. The February cold wave caused $24 billion in damages across a large swath of the U.S., but extensive damage and power outages occurred in our region. SCIPP's own Darrian Bertrand and Simone Speizer wrote a report summarizing the impacts of this February cold wave to the SCIPP region, which is available here.
Information in this report underscores the need for organizations like SCIPP, which assist organizations in the south-central U.S. with making decisions that build resilience and reduce weather and climate risks and impacts. As one of the nation's most vulnerable and natural disaster-prone regions, we are working hard to increase resilience through community engagement and coproduction, cross-organizational collaboration, and hands-on research in communities that need our expertise.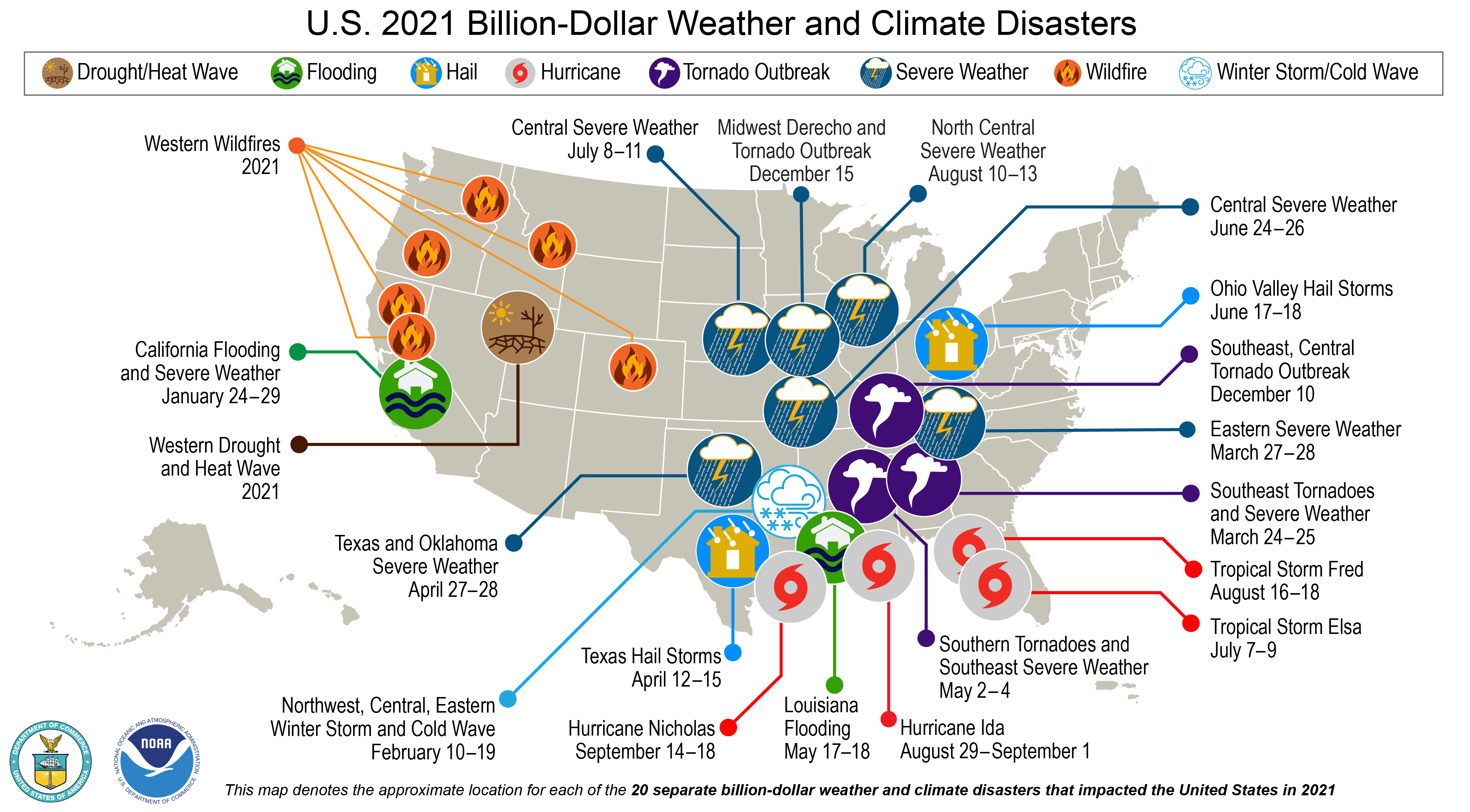 Simone Speizer, former Research Associate with the Southern Climate Impacts Planning Program, recently published a study in the journal Geophysical Research Letters that explored the trends in "humid heat" across the globe. Instead of simply looking at temperature, Speizer also took into account moisture in the air using the wet-bulb temperature, a method that more accurately assesses the human health effects of heat.
The study examined changes in extreme wet-bulb temperatures at a regional level, using the regions from the most recent IPCC AR6 report. Extreme wet-bulb temperatures were found to have increased in most land regions over the period of 1979-2019, with some areas warming slower or faster than the average. The authors also analyzed the distribution of extreme humid heat days across and within years. On a yearly level, they observed a concentration of extreme wet-bulb temperatures in years with strong El Niño episodes. On a seasonal level, they found that some typically dry regions tend to have extreme humid heat days in close temporal proximity to each other and to rainfall events.
The socio-economic impacts of these changes and patterns were not examined in this study, but Speizer offers this avenue of study as potential future work.
Since our bodies are less capable (or even incapable if a certain temperature is reached) of evapotranspiration in humid heat, extremes can cause serious health effects in humans, and thus it is important to understand the mechanical drivers of such events as well as their temporal patterns. This way, we are better able to prepare for and mitigate the effects of extremes in humid heat, especially as they become more severe.
To read the full publication, click here.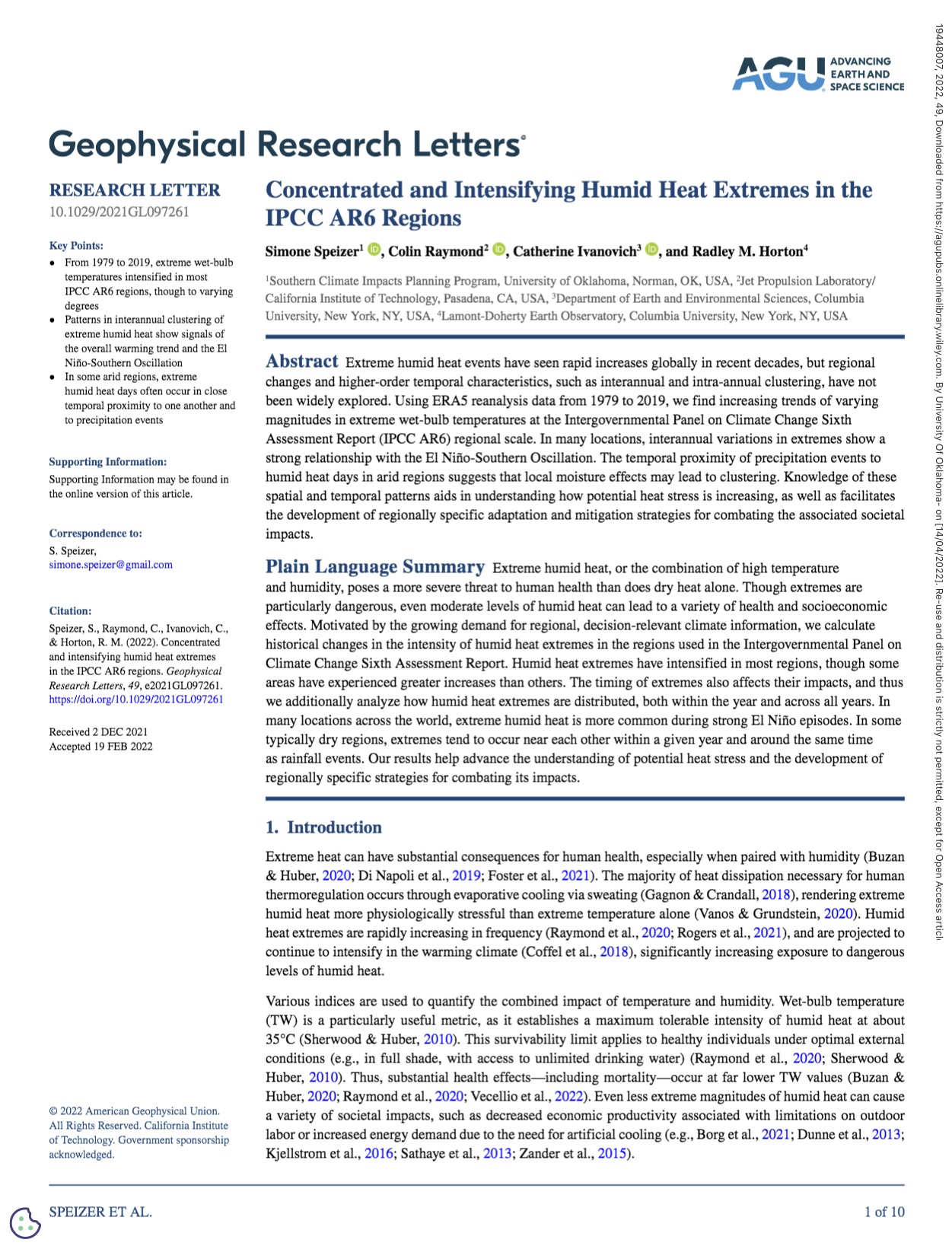 The Southern Climate Impacts Planning Program invites undergraduate students from Oklahoma, Texas, Arkansas, and Louisiana to participate in a 5-day, all-expenses-paid program designed to introduce students to the topic of climate adaptation.
Climate Adaptation is the process of identifying both present and future climate effects and determining how communities can adjust to the impacts of present and future climate conditions. There is a growing demand for professionals who have the skills to work in the climate adaptation arena, especially in the South-Central U.S., which is one of the most disaster-prone regions of the country. The academy will connect students with professionals in fields such as meteorology, climate science, geography, and environmental sustainability, and public administration.
Throughout the Summer Academy, students will hear from a variety of speakers on topics including but not limited to: climate-related hazards in the South-Central U.S.; social factors and equity in climate adaptation, climate policy, administrative authorities and their responsibilities, and planning and development skills. Additionally, students will learn about disciplines involved in climate adaptation and have the opportunity to engage with professionals who can help provide direction for those interested in pursuing a career in climate adaptation or a related field. Activities related to each topic will be incorporated throughout the academy, and one day may include a field trip where students learn local planning practitioners' perspectives on climate adaptation approaches in the region.
To read more information, and apply, click here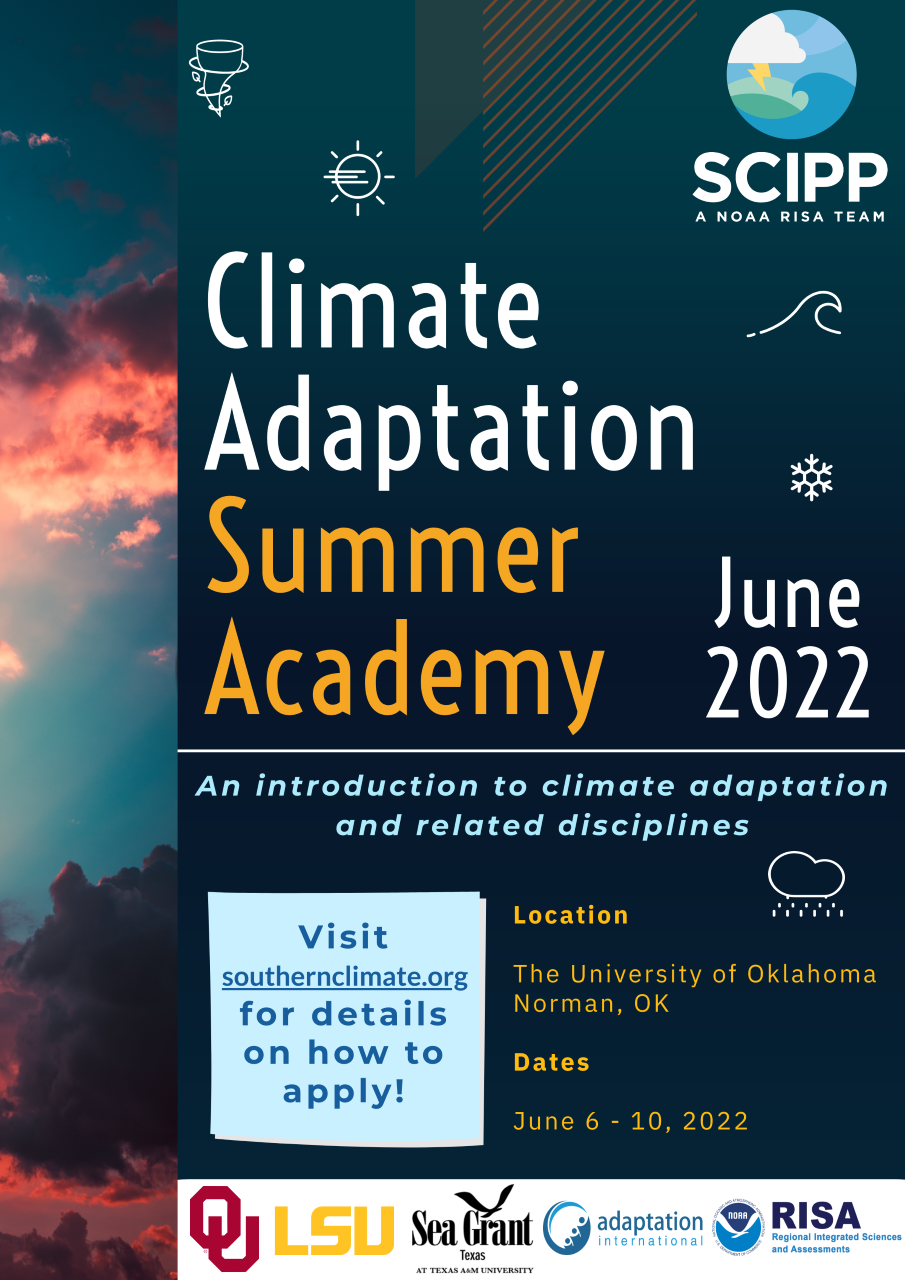 SCIPP is involved in authoring the Southern Great Plains chapter of the fifth National Climate Assessment. The National Climate Assessment is a Congressionally mandated quadrennial report led by the U.S. Global Change Research Program (USGCRP). The report evaluates how climate change affects people and places in the United States.
To inform development of the fifth National Climate Assessment, USGCRP and the author teams will be hosting a series of virtual public engagement workshops in January and February 2022. The purpose of the public engagement workshops is to:
Provide an overview of USGCRP and the National Climate Assessment development process, including other opportunities for public engagement
Allow members of the public and assessment authors an opportunity to discuss proposed key topics, identify priority issues relevant to the chapter, and share resources
Give NCA chapter authors an understanding of how workshop participants use assessments, and what could be done to make the NCA more useful for decision-making
The workshops will include a plenary session that provides an overview of the assessment and an introduction to the chapter. In breakout sessions, participants will have the opportunity to discuss the chapter's key topics and their own priorities with chapter authors.
The Southern Great Plains chapter is holding four 90-minute workshops to encourage more availability from regional stakeholders (dates/times below).
Feb 15, 2022 at noon to 1:30pm CT
Feb 15, 2022 at 2:30 to 4:00pm CT
Feb 15, 2022 at 5:30 to 7:00pm CT
Feb 16, 2022 at noon to 1:30pm CT
The Southeast chapter that also encompasses the SCIPP region is holding two workshops (listed below).
Jan 31, 2022 at 6:30 to 8:30pm ET
Feb 1, 2022 at 11:00am to 3:30pm ET
Be sure to register here.
For more information on the Fifth National Climate Assessment and for a complete schedule of engagement workshops, please visit the USGCRP website at https://www.globalchange.gov/nca5.
Note: Given technical limitations, only the first 200 individuals, including presenters, to join the meeting will be able to participate. A link to attend the meeting, accessibility information, and other important details will be provided before the workshop via email.
We hope to see you there!