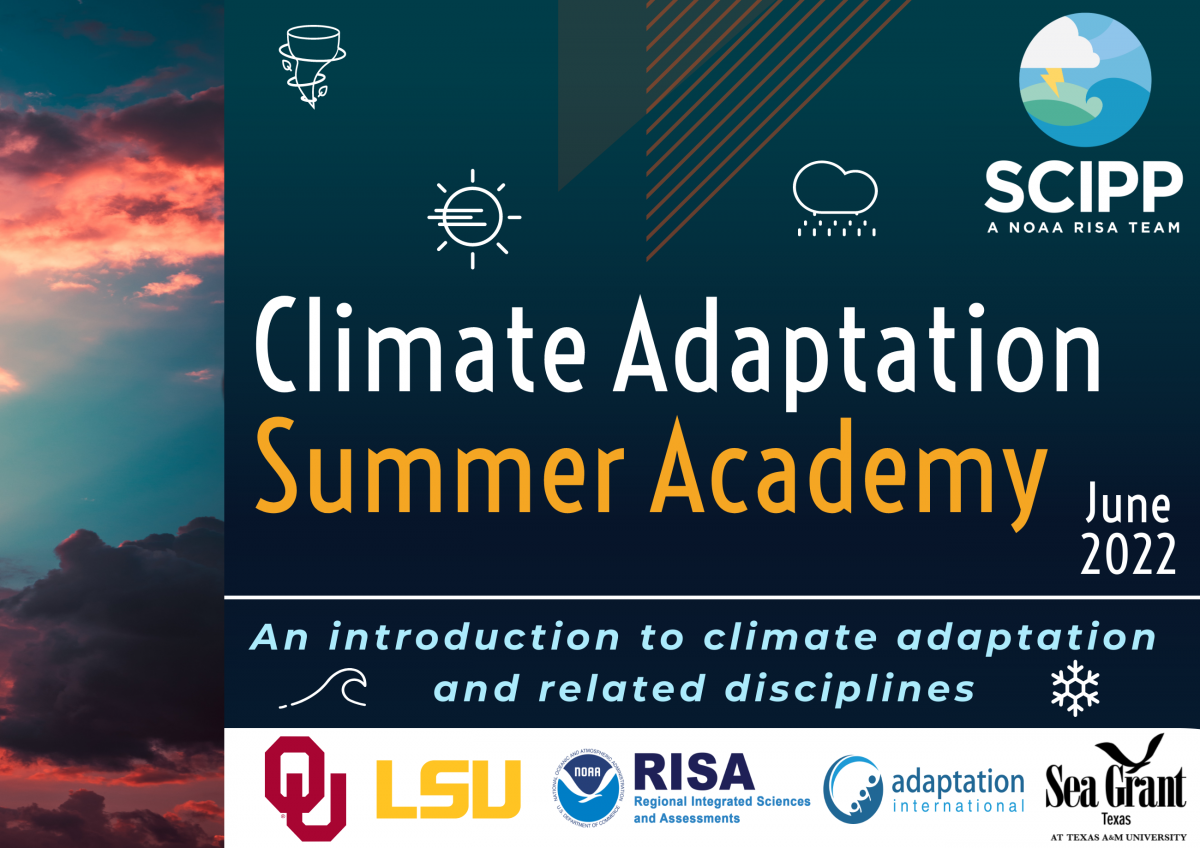 Event Details
Date: June 5, 2022 - June 10, 2022
Address:
The University of Oklahoma, Parrington Oval, Norman, OK, USA (
Directions
)
The Southern Climate Impacts Planning Program invites undergraduate students from Oklahoma, Texas, Arkansas, and Louisiana to participate in a 5-day, all-expenses-paid program designed to introduce students to the topic of climate adaptation. Climate Adaptation is the process of identifying both present and future climate effects and determining how communities can adjust to the impacts of present and future climate conditions. There is a growing demand for professionals who have the skills to work in the climate adaptation arena, especially in the South-Central U.S., which is one of the most disaster-prone regions of the country. The academy will connect students with professionals in fields such as meteorology, climatology, geography, environmental sustainability, and public administration.
Throughout the Summer Academy, students will hear from a variety of speakers on topics including but not limited to: climate-related hazards in the South-Central U.S.; social factors and equity in climate adaptation, climate policy, administrative authorities and their responsibilities, and planning and development skills. Additionally, students will learn about disciplines involved in climate adaptation and have the opportunity to engage with professionals who can help provide direction for those interested in pursuing a career in climate adaptation or a related field. Activities related to each topic will be incorporated throughout the academy, and one day may include a field trip where students learn local planning practitioners' perspectives on climate adaptation approaches in the region.

General Details:
Dates: June 6 – 10, 2022 *
Location: University of Oklahoma, Norman, OK
Approximate Number of Students: 25
* June 5 will serve as a travel day. While the Academy does not begin until June 6, students should plan to be available on June 5, and SCIPP will make their travel arrangements following acceptance to the Academy.

We Provide:
Lodging
Transportation expenses (e.g., plane flights, car fuel reimbursement, and travel to/from the OU campus)
Meals
Eligibility:
Applicants must be…
Actively pursuing an undergraduate degree from either a 2-year or 4-year academic institution
Attending a college or university located in one of the SCIPP states (OK, TX, AR, LA)
Interested in topics related to earth science, including but not limited to: meteorology and atmospheric sciences, geographic sciences, climatology, environmental sustainability, and climate adaptation

About SCIPP And RISA
The Southern Climate Impacts Planning Program (SCIPP) is part of a network of climate hazards research teams known as the Regional Integrated Sciences and Assessments program, or RISA. RISA teams are funded by the National Oceanic and Atmospheric Administration (NOAA). For more information about the RISA program, click here.
Founded in 2008, SCIPP's mission is to assist organizations with making decisions that build resilience by collaboratively producing research, tools, and knowledge that reduce weather and climate risks and impacts across the South-Central United States. Currently, SCIPP is a collaboration between the University of Oklahoma, Louisiana State University, Texas Sea Grant at Texas A&M University, and Adaptation International. SCIPP serves the four-state region of Oklahoma, Texas, Louisiana, and Arkansas. By applying a collaborative approach to research, SCIPP helps organizations identify ways in which they are impacted by extreme events and connects them to relevant climate information that can improve their decision-making processes. To learn more about SCIPP, visit  the About Page.

Applying for the Summer Academy
To apply for participation in SCIPP's Summer Academy, students should submit an application either through this electronic form (preferred) or download and email a PDF form to ekronenberger@ou.edu. The last day to apply is April 24, 2022. Applicants will be accepted on a rolling basis. Please note that we acknowledge that each student's academic and personal backgrounds will differ, and we do not expect students to demonstrate in-depth knowledge of climate adaptation and related topics in the application questions. Applicants will be assessed based on the quality of their responses (i.e. clear, concise, addresses all parts of the question, etc.).
Diversity, Equity, and Inclusion at the Academy
Presently, there is a national effort to promote diversity and inclusion in the geosciences. Expertise from individuals from a variety of socioeconomic backgrounds and geographical areas is critical to understanding and addressing the unique weather and climate risks associated with different communities. Additionally, as a growing body of research reveals how climate change disproportionately affects lower-capacity communities, climate adaptation professionals recognize the need for greater representation of individuals from historically marginalized and underrepresented communities in climate science research. As part of SCIPP's focus to promote diversity in climate adaptation, we encourage students from minority-serving institutions, under-resourced and rural communities, or first-generation college students to apply for the academy. However, any student from any background is welcome and encouraged to apply.
COVID-19 Policies and Procedures
As part of the University of Oklahoma Research Campus, SCIPP follows COVID-19 protocols set in place by the University. As of April 2022, mitigation strategies such as vaccination and masking indoors are strongly recommended on the OU campus. Please note that policies are subject to change at any time according to University guidance. For more information on OU COVID-19 protocols, click here.
Contact Information
For questions regarding the Summer Academy, please contact Erica Kronenberger at ekronenberger@ou.edu.
Location
The University of Oklahoma – Norman Campus