After positive news of the Southern Climate Impacts Planning Program's $5.4 million award, the program continues its research endeavors with a new leader at the helm.
Rachel Riley is the new Director of the Southern Climate Impacts Planning Program at the University of Oklahoma. Previously, she was SCIPP's Deputy Director. She has over a decade of experience co-producing useful and usable research and information that helps communities and states in the South-Central U.S. better plan for and respond to climate-related challenges. Ms. Riley has collaborated with small and large communities, tribal nations, and state officials. She has expertise in climate adaptation and hazard mitigation planning, communication, decision support tool evaluation, and social science methodologies. She is an expert at translating complex climate information into formats that are meaningful to decision makers.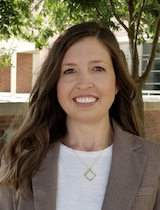 Over the course of her career, Ms. Riley has conducted research on the topics of improving hazard mitigation planning and outcomes, connecting land use planning with emergency management functions, climate decision support tool evaluation, climate needs assessments, and disaster response. She has engaged with colleagues and stakeholders at numerous conferences, technical meetings, and workshops and has advised undergraduate and graduate students. In 2019 she received a national Route Fifty Navigator Award for her involvement in developing the Simple Planning Tool for Oklahoma Climate Hazards. In the same year she also received another award for the Simple Planning Tool from the Oklahoma Chapter of the American Planning Association.
Ms. Riley holds a B.S. in meteorology from Iowa State University and an M.S. in interdisciplinary studies (communication and meteorology) from the University of Oklahoma. She is a member of the American Meteorological Society, American Association of State Climatologists, American Society of Adaptation Professionals, and the Earth Science Women's Network. Born and raised in Minnesota, Ms. Riley has lived in Oklahoma for over a decade.
SCIPP's Dr. Mark Shafer served as Director of the program since its inception in 2008, until 2021. He will continue his valuable contributions to SCIPP as Deputy Director. Dr. Barry Keim, who has played an instrumental role since SCIPP's inception, will also continue to be involved as lead investigator at Louisiana State University.